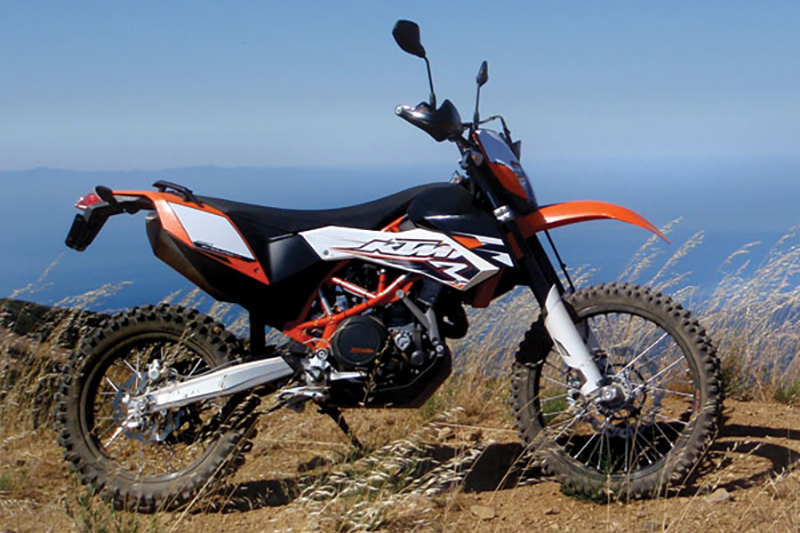 Road Test Review
If dirt's your game, the 2009 KTM 690 Enduro R has the chops to take you anywhere you want to go (within its 150-mile range), no questions asked. The knobby-shod R will suck up any street chores you throw at it, from twisties to superslab, but its counterbalanced 654cc single hankers for the pavement to end and the dust bath to begin. Power flows like a torrent from the liquid-cooled SOHC four-valver—KTM claims 47.2 lb-ft of torque at 6,000 rpm and 62 horsepower at 7,500. Nail the throttle at 70 mph in sixth gear and the Enduro launches forward, jetting past anything in its path. On the trail, the R is just as happy to torque along as to blast from corner to corner. Its Adler Power Torque Clutch, designed to prevent wheel hop on deceleration, is single-finger easy to operate. Shifts are quick and positive, though a lazy foot can find neutrals between the top three gears.
Throttle control is a team effort on the Enduro. Closed-loop Keihin electronic fuel injection meters the fuel, but KTM's Electronic Power Throttle adjusts the throttle opening based on your wrist action and its reading of engine conditions. A map select switch dials up three power settings and lets you run low-octane fuel. The soft power setting emasculates both power and punch, while advanced mode makes the throttle too twitchy. The standard setting balances responsiveness—and easy second-gear wheelies—with excellent mileage and tractability.
KTM fits fully adjustable WP suspension units at both ends, a 48mm male-slider front fork and a single rear shock. The shock preload was too much for my 150 pounds and difficult to adjust trailside, so I got hammered on big bumps. A heavier friend rode it without complaint. The steel trellis frame is a work of art, providing a rigid chassis for the rumbly motor and a solid connection for the fork and aluminum swingarm. You sit atop the plastic gas tank, which stands in for a conventional subframe. At 336 pounds wet, the 690 is light enough to throw around—and pick up—but heavier than other street-legal KTMs.
Brembo calipers and Galfer rotors provide progressive braking that's manageable in the dirt and screeches the tires on the street. The banana seat is surprisingly comfortable (for a KTM) and the ergos worked well for my 68-inch height; vibration ebbs and flows with engine speed. The catalyst-equipped stainless steel-exhaust growls a civilized note, but the pipe gets mighty toasty and not all exposed parts are shielded. It's also missing the spark arrestor required by my local forest. A small, hard-to-read LCD instrument pod integrates a speedo, odometer, two tripmeters and a temp gauge, plus six tiny indicator lights. Maintenance intervals let you ride more than wrench, with 3,100-mile oil changes (two filters, two screens) and 6,200-mile valve checks.
Rough on the street and smooth on the trail, the 690's powerful engine, premium suspension components and lean build exude a dirt-first demeanor that's unlike any of the Japanese dualies I've owned or ridden. KTM calls the R a "hard enduro." I'd call it a take-no-prisoners dual-sport. Orange has never been my favorite hue, but if KTM coughs up an Adventure model it could become the color of my (next) midlife crisis.