First Ride Review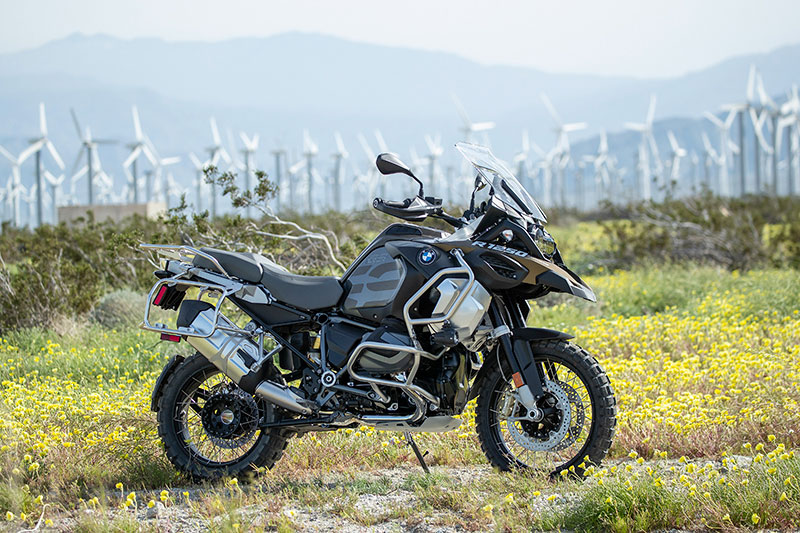 The time for big changes to your best-selling motorcycle models is generally not when their sales are on the upswing, and BMW knows this as well as anyone else. It moved about 3 percent more bikes in the U.S. last year in a mostly flat market than in 2017, with just three twin-cylinder models responsible for 37 percent of the total: the R 1200 GS, R 1200 GS Adventure (GSA) and R 1200 RT. As anyone who owns one can attest, these bikes have become very, very good at their missions, whether it's knocking out 300 miles of Backcountry Discovery Route on a GS or GSA adventure bike or reaching the end of a 3,000-mile sport-touring ride on an RT ready for 3,000 more.
So, if it ain't broke…you only mess with it if necessary. More powerful competition like the KTM 1290s certainly qualify as a motivator for change to the R 1200s, but not a "have to" when sales are good. On the other hand, tougher Euro 5 emissions standards that take effect January 1, 2020, are definitely a have to. BMW has decided to tick both boxes early, by adding 84cc more engine displacement for more power overall and ShiftCam technology to the new 2019 R 1250 engine's valve train, a form of variable valve timing that broadens the powerband, increases fuel efficiency and decreases emissions. All five larger air/liquid-cooled R 1250 boxer models (GS, GSA, RT, R and RS) get ShiftCam for 2019, in fact, and related changes such as toothed silent cam chains (previously roller chains), an optimized oil supply, twin-jet injection valves and a new exhaust system. To sweeten the deal there are some nice styling, suspension and electronic upgrades to the bikes as well.
Common in the automotive world where economies of scale and more engine elbow room make it easier to implement, variable valve timing is still pretty rare in motorcycles, but as emissions regs tighten we're likely to see it more often. Honda's VTEC was first—on the Japanese market 1983 CB400F—followed by the 2002 VFR800 VTEC, and lately Suzuki, Ducati and Kawasaki have all used a form of VVT in a single model. BMW's system is unique in that—rather than only opening two of four valves at lower rpm, or partly rotating the intake cam independently of the crankshaft to advance or retard the valve timing—ShiftCam slides or "shifts" the boxer engine's intake cams sideways at midrange rpm, engaging side-by-side partial- or full-load cam lobes as needed. Electronic actuators in the cylinder heads shoot a pin into one of a pair of curved ramps on the cams, shifting it to full load mode at 5,000 rpm no matter what, or at lower engine speeds based on load. The shift happens in 2-5 milliseconds and is undetectable, other than a useful extra gob of smooth grunt at low rpm, noticeably more power on top and a tiny bit more mechanical noise. BMW claims the jump from 1,170cc to 1,254cc and ShiftCam raise output over the entire R 1250 powerband, with 9-percent more horsepower peak (136 at 7,750 rpm) and 14-percent more torque (105 lb-ft at 6,250 rpm). At the same time fuel economy is said to be 6-percent better, the minimum fuel octane requirement has been lowered to 87 AKI and the bikes all meet Euro 5.
Since they're its best sellers here, BMW launched the R 1250 GS, GSA and RT at a single event in Palm Springs, California, where we could take advantage of some sandy and challenging desert dirt roads on the GS models, and lightly trafficked mountain and desert highways for some RT peg scraping. I also rode an RT away from the event, and we picked up an R 1250 GS Exclusive for some further testing, so we'll update this story with dyno numbers soon. In addition to ShiftCam 1,254cc engines, all three bikes enjoy some other new features I'll address here, but for greater technical detail on each model refer to the following:
2017 BMW R 1200 GS Updates & New Style Packages
2014 BMW R 1200 RT Road Test Review
2014 BMW R 1200 GS Adventure Road Test Review
The R 1200 GS series is popular because of its Swiss Army knife-like versatility—it's not just a big dual-sport capable of tackling some pretty gnarly dirt in the right hands, or even just easy dirt roads connecting pavement—it's also a great sport-touring bike, commuter and corner carver. For many it's the one bike that does it all…unless of course it's too tall for you and you don't ride off-road, in which case the R RT is a better choice. With its lower seat height, excellent wind protection, comfort and handling, the dream of many a BMW enthusiast is to have both it and a GS in the garage.
For 2019 the R 1250 GS and RT add Hill Start Control (HSC) to the list of standard electronic features that includes two riding modes—Road and Rain—and Automatic Stability Control (ASC), or basic traction control. HSC holds the bike in place on hills when you release the brakes, making it easier to start out.
The RT also benefits from standard ABS Pro for 2019, essentially cornering ABS, which is still part of the optional Ride Modes Pro package for the GS. Other Ride Modes Pro functions for both bikes include an additional Dynamic ride mode, Dynamic Traction Control (DTC), and new Dynamic Brake Control (DBC), which prevents throttle application under hard rear-wheel braking. The GS also gets Dynamic Pro, Enduro and Enduro Pro riding modes and HSC Pro. DTC works in corners, and the "Pro" suffix basically allows more user control over the brakes and suspension. And if you're not confused by all of that, you're better off than most of us.
All of this is displayed on a bright and easy-to-use 5.7-inch TFT display on the RT that returns unchanged for 2019, but the GS and GSA get new tablet-sized 6.5-inch TFTs with Navigation, Media and Smartphone app Bluetooth connectivity and enough menu options and information to launch the space shuttle. Once you figure it all out, zipping through all of the selections is quick and easy with the Multi-Controller wheel on the left bar.
As before changes to the riding modes make complementary changes to the optional Dynamic Electronic Suspension Adjustment (D-ESA), which can be customized, and the Auto Leveling preload function introduced on the GS for 2017 has been added to the RT. This eliminates the need to make preload changes, say, when a passenger climbs on, and can be overridden with MIN and MAX preload settings on both bikes.
BMW is fond of equipment "packages" that tend to find their way onto most of the bikes sold in the U.S., such as Select, Premium, Exclusive and HP Motorsport packages that include things like Keyless Locking, no-cost high or low seats, special wheels, GPS, TPMS, billet items and more. It's not easy to find "base" models of the typical BMW motorcycle in the U.S. in fact, but most of the options are pretty desirable even if they tack on cost.
Forgetting about all of the bells and whistles, though, just how well do the new 2019 R 1250 GS, GSA and RT work? I started out in Palm Springs on a GSA, and was immediately pleased to find a new low adjustment position for its rider's seat, letting me at least get the balls of my feet on the ground now, and I have a 29-inch inseam. Once I got the "dongle" installed under the seat that enables all of the "Pro" functions of the ride modes, I fiddled with the larger new display for a while but decided it could wait until lunch and kept my eye on the traffic and our group leader, who was in a serious hurry to get to the dirt section. The increased power, acceleration, smoother power delivery and throaty exhaust bark of the new engine is quite welcome, and on the road the Dynamic ESA works really well with the longer-travel suspension of the GSA to provide a soft but well-controlled ride.
Stopping just long enough to make sure we had switched to Enduro Pro ride mode, which allows locking the real wheel, we blasted down an old two-track dirt road which became sandier and rockier as we went, until I was all eyeballs and sweat maneuvering the big GSA with its 7.9-gallon gas tank. Fortunately BMW had equipped all of the GS models with Continental TKC 80 50/50 dirt/street tires that provided good grip, especially in corners, and the additional low-end power of the new engine really helps in the tight stuff. Later on I got some seat time on a regular GS and found that both it and the GSA comport themselves very well on-road, too, with the standard model getting the nod on the street for its lower weight and seat heights. Mission creep has affected their wet weights over the years, however, and our R 1250 GS Exclusive tipped the scales at 570 pounds, a 31-pound gain over our 2013 R 1200 GS test bike. At a claimed 591 pounds the GSA is up by at least 10 pounds for ShiftCam, probably more, but we don't have an apples-to-apples comparison.
The R 1250 RT has received fewer changes for 2019 than BMW's best-selling GS models, but it's become so refined that every time I ride one I start counting my pennies. The bike benefits nicely from the new ShiftCam engine, too, especially in low-speed maneuvers with its smoother power delivery, and when you're really caning it, as we did on the winding Pines-to-Palms Highway and the racetrack-like twisting descent to Borrego Springs on Montezuma Valley Road. I left the bike's ESA settings on Road and Auto Level most of the time, except in the fastest corners where Dynamic damping cleared up a tendency for the bike to wallow a bit. Otherwise the RT retains its former prowess in all sport-touring matters, and has only gained about 10 pounds. BMW should update the RT's Bluetooth and audio connectivity from the 2014 spec to something like the new GS models, and work on making upshifting smoother with its Quickshifter, but beyond that I had difficulty finding fault with this marvelous sport-touring machine.
With a few exceptions the 2019 R 1250s are changed where it's needed, and the same where it's not, maintaining a high level of performance in a shifting world. We'll append dyno figures to this post ASAP.