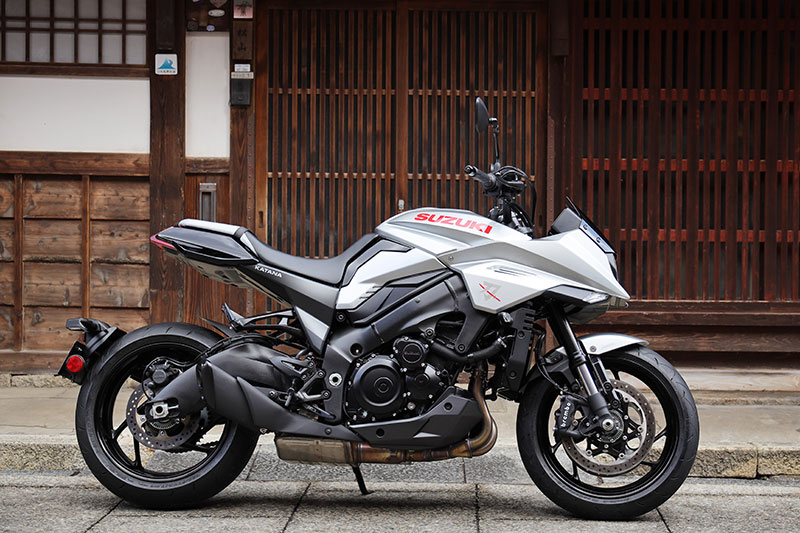 First Ride Review
Among the many memorable motorcycles created by German industrial stylist Hans Muth, two became icons of the late 20th century. They're iconic not only for their timeless style but also for changing the direction of motorcycle design as well as the direction of the companies that produced them. The first, in 1974, was the café racer-styled BMW R90S–with its bikini fairing, silver-into-black "smoke" paint job and hot-rodded engine, it single-handedly transformed BMW's conservative image and went on to win the first AMA superbike championship in 1976. The second, in 1981, was the Suzuki GSX1100S Katana–a superbike with integrated, ergonomic- and aerodynamic-driven bodywork that revolutionized motorcycle aesthetics.
The R90S was an internal BMW project pushed through by then-executive VP Bob Lutz, who credits the bike for saving the company's motorcycle division from insolvency. A commission from Suzuki to develop a new, provocative design language for its motorcycles motivated Muth and two other designers–Hans-Georg Kasten and Jan Fellstrom–to leave BMW and start their own firm, Target Design. Based on earlier design studies, they developed a concept that wrapped the existing GS1100 in bold, futuristic bodywork and unveiled it at the Cologne show in 1980. Although the Katana drew mixed reactions, Suzuki was duly impressed and rushed the new model into production with few changes. Thanks to its futuristic styling, as well as its claim as the fastest production motorcycle of the time, the Katana was a sales success and helped catapult Suzuki into the modern era, much as the R90S did for BMW. It also paved the way for the GSX-R750, the first fully faired "race bike with lights" put into production, which was launched for 1985 and helped create an entirely new segment of the market.
Essential to the legend of the Katana is its name, which refers to the type of sword used by samurai warriors. When developing the original concept, Muth's team studied Japanese culture and saw similarities between a sword and a motorcycle–both are tools as well as symbols, and both must be treated with respect. They also felt that motorcycle design should flow with the grace and fluidity of swordsmanship, which is why the bike looks cohesive rather than an assembly of separate parts, as nearly all motorcycles had been up to that point. The lower part of the original Katana's tank looks as though it has been cut by a sword, and the concept's logo–still in use today–is a stylized combination of the Japanese characters for "katana" and "edge."
Like the original, the latest incarnation of the Katana comes from the imagination of an independent designer, an Italian named Rodolfo Frascoli whose portfolio includes Moto Guzzi's Griso, Norge and Stelvio and Triumph's Speed Triple and Tiger 1050. Commissioned by Italy's "Motociclismo" magazine, Frascoli collaborated with engineer Alberto Strazzari to graft modern, Katana-inspired styling onto the existing Suzuki GSX-S1000 naked sportbike. Frascoli was not attempting to create a retro motorcycle, but rather a contemporary interpretation of the original, with more aggressive bodywork, a smaller tail section and other changes to reduce visual mass. Elements carried over from the original Katana include the rectangular headlight, the "sword cut" across the tank and silver bodywork. Frascoli's Katana 3.0 Concept was presented at the Milan show in 2017, and, as it did nearly four decades prior, Suzuki indicated its approval by green-lighting a new Katana for production.
Unveiled at the 2018 Intermot show in Cologne, the new Katana will be available later this year as a 2020 model. (Pricing has not yet been announced.) According to Chief Engineer Satoru Terada, it took 14 months to develop the concept into a production-ready motorcycle, and visually there are few differences between the two. The gas tank was modified to change the steering angle and allow more space for the rider, overall weight distribution was shifted rearward and the handlebar was moved up and closer to the rider. Changes to the underlying GSX-S1000 platform were limited to a minor revision to suspension damping rates, new instrumentation and new LED lighting.
Suzuki hosted a global launch for the Katana in Kyoto, the former imperial capital of Japan renown for its thousands of temples and shrines. Northwest of Kyoto is the Arashiyama-Takao Parkway, a private toll road that snakes its way through the mountains, which Suzuki reserved to provide a traffic-free opportunity to test the Katana. Despite the cold, damp conditions and riding on the left side of the road, the Katana was easy to warm up to, with upright seating that didn't put too much weight on my wrists nor too much bend in my knees. Spinning beneath me was a liquid-cooled, DOHC, 999cc in-line four that's a modified, street-tuned version of the GSX-R1000 K5 (2005-2008) engine, making 148 horsepower at 10,000 rpm and 80 lb-ft of torque at 9,500 rpm (claimed) and delivering civilized throttle response and smooth, linear thrust.
Frascoli chose the GSX-S1000 as the basis for the new Katana because it's a compact, well-packaged machine with a high level of maneuverability and performance. We've tested the 2016 GSX-S1000 and found it to be an excellent real-world sportbike, with a stout twin-spar aluminum frame and cast aluminum swingarm, adjustable KYB suspension, Brembo monoblock 4-piston radial front calipers, three-level traction control and ABS. The Katana's spec sheet is nearly identical, except seat height is higher (32.5 inches), claimed wet weight is heavier (474 pounds) and fuel capacity is lower (3.2 gallons). From the saddle, it felt responsive to light steering inputs, stable through corners and at speed, and new Dunlop Sportmax Roadsmart 2 tires developed specifically for the Katana provided reassuring grip and easy side-to-side transitions.
Whereas the original Katana was a revolution in design, the new version is more of an evolution, standing apart from other partially faired upright sportbikes without breaking new ground. Its edgy, silver skin is stretched over a motorcycle that represents nearly 40 years of development and refinement in terms of engine and chassis technology, suspension and brakes, tires and electronics. Even though today's Katana is no longer the fastest bike in production, it makes a respectable 148 crankshaft horsepower in a 474-pound package and is no doubt much faster than the original, which made 107 horsepower and weighed 540 pounds. By channeling the spirit of its ancestor, the new Katana honors the past while clearly showing how far we've come and how good we have it.