2016 Honda Africa Twin DCT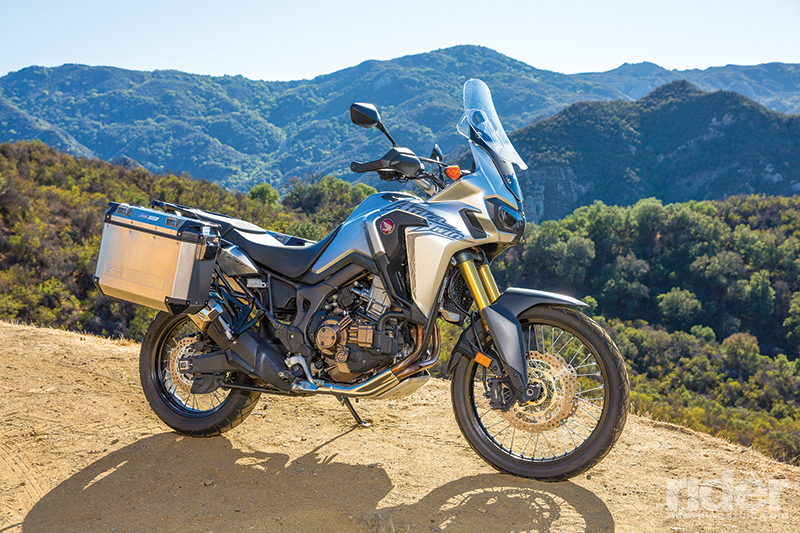 Touring Review
Hi-Yo, Silver! We haunt some Nevada ghost towns on a real-world touring test of the 2016 Honda Africa Twin DCT.
It's easy to find yourself alone in Nevada. Well north of Las Vegas, black mountains ring expanses of high desert in the Great Basin so vast they make Death Valley look like a sand trap. U.S. Route 50, America's so-called "Loneliest Highway," runs laterally across these moonscapes, cutting the Silver State roughly in half as it jogs over mountain passes and around military bombing ranges. But there's gas and civilization of sorts on U.S. 50 every 100 miles or so. To the south, U.S. Route 6 across Nevada is the real loneliest highway, with one stretch between fuel stations of 167 miles. And in between the two highways lies a beautifully vacant sweep of the Humboldt-Toiyabe National Forest, where incongruous 10,000- to 12,000-foot rocky mountain peaks rise from the roughly 6,000-foot high desert floor through dense forests of pine. It is at once beautiful and daunting.
Looking for someplace new to take the 2016 Honda Africa Twin for a long ride, Nevada seemed like a good choice. Hidden in the valleys and canyons of the Humboldt-Toiyabe are numerous ghost towns connected by long stretches of dirt roads that are well maintained but completely deserted. Nevada has some 600 ghost towns, far more than active ones, relics left over from a boom-and-bust mining era that pulled billions of dollars worth of precious metals from the ground. It was an intriguing thought—a lone ranger on an Africa Twin DCT test bike, which only comes in silver, seeking ghost towns in the Silver State. Hi-Yo, Silver! OK, maybe I need to get out more….
Anyway, everyone knows by now that the new Honda is a more-than-capable off-road adventurer, with its torquey 998cc parallel twin, chain final drive, long-travel suspension and 21-inch front/18-inch rear wheel combo (see our initial, more technical first ride review). But few seem to be concerned with how it works on a long tour. How's the comfort, convenience, load capacity, fuel economy, etc.?
Though I wished to leave it mostly stock, getting the bike ready for a solo 1,200-mile loop that would include 32- to 95-degree weather, long, boring stretches of pavement and hundreds of miles of lonely dirt roads involved some preparation. Our Africa Twin already had the accessory centerstand, heated grips and 12-volt accessory socket, and the latter made it a snap to hook up my GPS. But the socket is only rated for 2 amps max (24-28 watts), so I had to put an SAE pigtail directly on the battery for my 74-watt electric jacket liner, and the battery is buried behind the engine cylinder bank. Since the stock windscreen is fine for lower speeds but buffets and roars at 70-plus mph, the next addition was a Givi Airflow adjustable windscreen. It eliminated the buffeting and routed most of the windblast over my head for a quieter ride at speed, though some wind still sneaks around the sides.
Honda offers an accessory top box and convenient integrated panniers for the Africa Twin, but they are too small for a serious adventure. To haul my gear and enough tools for self-sufficiency—including a bottle of Slime for the inner tubes in the spoked wheels, tire irons, a patch kit and air pump—I installed a pair of Givi Trekker Outback panniers, tough 37- and 48-liter aluminum boxes with a strong but convenient mounting system. I also bungeed an empty one-gallon gas can to the passenger seat, and brought along a Spot Gen3 satellite tracker to keep the wife happy. Total load, including Yours well-fed Truly, my apparel, tank bag, both panniers, mounts and the gear inside them was 287 pounds, leaving about 97 pounds of "official" load capacity out of 384. Hmmm. One of us needs to go on a diet.
Before leaving, I adjusted the air pressure in the stock Dunlop Trailmax tires, which are a good compromise for mostly on-road and some off-road riding, and tweaked the Africa Twin's suspension. Increasing the preload and damping at both ends is fairly simple, though the remote knob for the rear shock preload is too recessed and difficult to use. This firmed up both ends for the load and off-road work and minimized fork dive under braking, but left the suspension nicely compliant on the highway.
Then I was off and riding, leaving the fragrant strawberry fields of Camarillo behind for the high desert of Mojave, battling crosswinds up U.S. Route 395 to the rolling hills of the Randsburg Cutoff and past the California ghost towns of Garlock and Ballarat. I took my first real break in Trona, a mining town named after one of the minerals scooped out of nearby Searles Lake that gives the air a sulfurous rotten-eggs smell.
So far the Africa Twin was keeping me quite happy on the blustery Interstates and quiet two-lane roads. The seat is wider, more supportive and comfortable than it looks, there's no bothersome vibration from the counterbalanced twin and the bike is stable at highway speed. Even with my bulk and the large panniers aboard, it accelerated briskly and cruised along at 80 mph without even breathing hard, with smooth throttle response and a pancake-flat torque curve. We couldn't dyno the DCT version, but tests of the standard bike show it making about 86 horsepower and 67 lb-ft of torque at the rear wheel, more than enough for a solo rider and gear. So far the only inconvenience—as with most ADVs and my 29-inch inseam—was the bike's tall seat height. Even with the adjustable seat in the lower position I was on my tiptoes at stops, and had to kick my right leg up and stick it over the seat to mount the bike because of the large panniers and gas can on the rear seat. Once on-board it offered plenty of legroom, though, and I really liked the upright, relaxed seating position.
After a bite at Panamint Springs, State Route 190 led the Africa Twin and me over 4,963-foot Towne Pass and down into majestic Death Valley, where I only stopped for gas at Stovepipe Wells. My first Nevada ghost town was just to the east near Beatty, and I was anxious to get there.
Like many of the ghost towns in Nevada, Rhyolite started as a mining camp that sprang up after a prospecting discovery in the nearby hills. By 1907, it had water mains, a bank, post office and newspaper, even major investment from none other than Charles M. Schwab. After the ore was exhausted and the mine closed in 1911, its population dwindled from nearly 5,000 to close to zero. Since then the crumbling buildings have become a tourist attraction and have been used in a number of movies.
I poked around Rhyolite for a while, relishing the sound of the soft desert wind whistling through what's left of the Cook Bank building and wondering what inspired Albert Szukalski to create the strange ghostly sculptures in the Goldwell Open-Air Museum nearby. From the 95 degrees of Death Valley at several hundred feet below sea level, here at about 4,000 feet the temperature had dropped to a pleasant 75 or so, and from Rhyolite it would continue to drop as we climbed north toward Tonopah, Nevada, which sits at 6,047 feet.
Reading the ambient temperature on the Honda's instrument panel is fairly easy, but overall the LCD display is too small for the amount of information packed into it and can be difficult to decipher at a glance, especially since it glares over too easily. It does feature a very comprehensive trip computer as well as a clock, fuel gauge and the usual indicator lights, and reveals everything going on with the bike's numerous switchable ABS, traction control and DCT settings, many of which can be changed on the fly.
On the climb up to Tonopah, a fierce headwind lowered the Africa Twin's fuel economy to just 29.8 mpg, though I'm sure the frontal area of the panniers contributed to that reduction from its average of 42.7 mpg. For some, the bike's 5-gallon fuel capacity will never be enough, but by taming my right wrist I got the CRF1000L to return as much as 49.2 mpg. Tonopah is a funky old city with a significant mining and frontier history as well as a few nice hotels like the Mizpah, where I relaxed after a 400-mile day, impressed with how well the Africa Twin had performed so far.
I awoke to a 32-degree morning, glad I had brought my electric jacket liner and that the Honda had heated grips. Even on the highest of five settings they don't get hot enough and heat unevenly, though, and I found myself trying to squeeze more BTUs out of the left grip as I rode U.S. 6 out of town bound for Nevada State Route 376 north and Belmont. Thank goodness for the stock hand guards. The plan was to use GPS and my detailed map to connect Belmont with Berlin via Manhattan, three mining ghost towns—the histories of which are short but fascinating and well worth looking up online—on roughly east-west dirt roads. The common thread among them, for me anyway, was their uniquely beautiful settings at higher elevations, with Belmont and Manhattan at a crisp 7,000-plus feet among the pines and Berlin on a barren desert hillside at 6,840. Berlin is also part of the Berlin-Ichthyosaur State Park, which has the highest concentration and largest fossils of these prehistoric marine reptiles.
Belmont is about 46 miles from Tonopah, which created enough room in the Africa Twin's tank for the spare gallon I brought from the last gas stop. I wasn't really sure how far it was to the closest gas in Gabbs on State Route 361 to the west, but that extra gallon ensured I had plenty of range even if I ended up taking a wrong turn or two. The Africa Twin ate up the dirt roads in the Humboldt-Toiyabe like a big dual-sport single with more power, and its narrow 21-inch front wheel pushed through sand and over ruts with ease. I really liked the functionality of the optional automatic Dual Clutch Transmission on-road—there's no clutch lever or foot shifter, and it saves fuel in Drive mode by upshifting quickly into the taller gears. If you don't like the lugging that results, you can use one of three Sport mode levels, manual shifting, or just override the gear choice with the paddle shifter on the handlebar. If I were going to ride a lot of dirt I would probably skip the 23 pounds and expense of the DCT, however, primarily because it often engages unpredictably starting off from a stop and at slow speeds off-road, which can make loose surfaces even harder to negotiate.
After Berlin and the Ichthyosaurs I didn't have much of a plan, so I wandered over to the Lake Tahoe area to spend one more night before burning home on U.S. 395. At the final gas stop a few miles from home I realized that—other than the tall seat height and cluttered display—I had really enjoyed the Africa Twin on this 1,200-mile ride and wouldn't hesitate to turn around and do it again. Among the crop of 2016 ADV bikes it's easily the most dirt-worthy, yet surprises with a high degree of touring capability. Hi-Yo, Silver! indeed.